Benefit to Stakeholders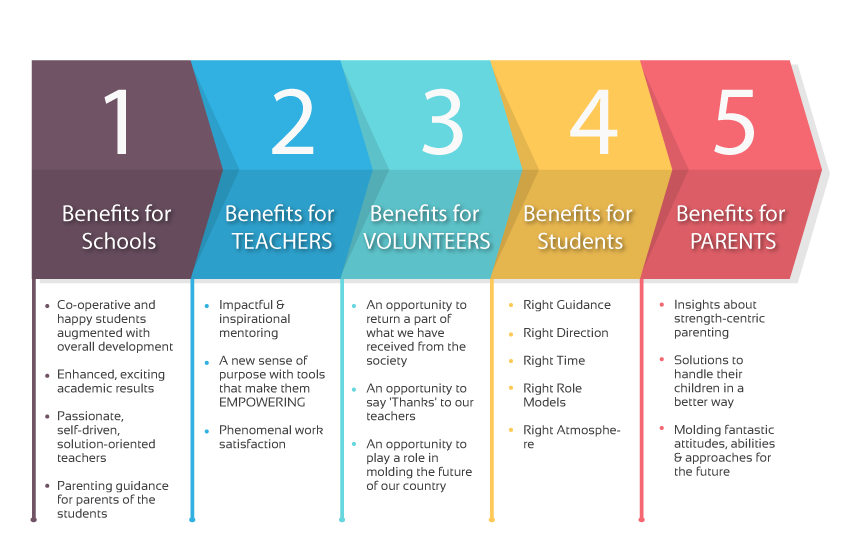 KMM Workflow
The KMM students module runs from June to October every year. The module comprises of 7 life-transforming life skills sessions.  Trained volunteers visit 9th & 10th Std classrooms once in a fortnight in selected private and public schools to impart these sessions. The sessions are designed by experts and focus on inspiring the students towards excellence. The below chart shows the steps of KMM process of empowerment.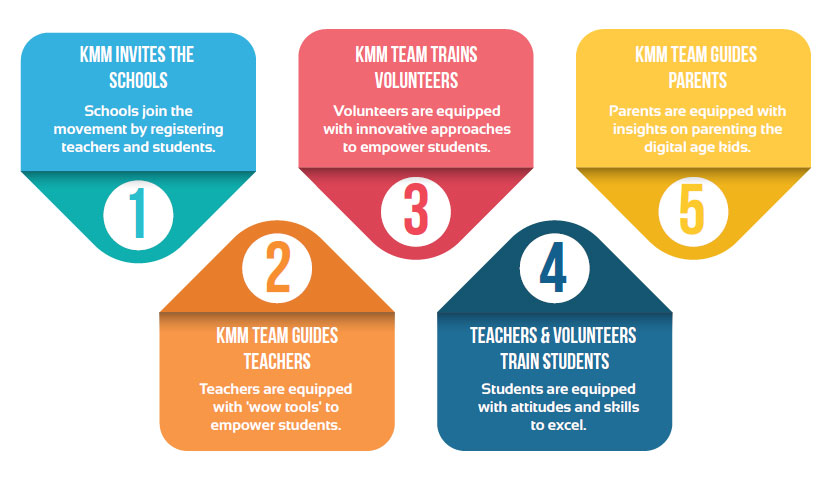 KMM Centers
Each center has a local coordinator and a team of local volunteers. The volunteers conduct the 7 session module from June to September in local schools.
Ahemdabad
Akola
Ambejogai
Aurangabad
Bangaluru
Bhilai / Durg
Chennai
Chopda
Daund
Dhule
Ghaziabad
Goregaon
Gurgaon
Junnar
Kikavi
Kolhapur
Lonere
Manchar
Manmad
Mumbai
Narayangaon
Nashik
Nasrapur
Nilangan
Noida
Otur
Parbhani
Parli- Vaijnath
Port Blair
Raipur
Rania-Harayana
Sangli
Satara
Sinnar
Mahuvej
Surat
Udaipur
Varanasi
Vijaywada
Vita
Washim
Pune
Mangaon
Solan
KMM Select
KMM volunteers travel to these destinations to conduct pre-scheduled workshops for students, parents and teachers.
Ahmednagar
Amravati
Chandwad
Colombo ( Sri Lanka )
Gadhinglaj
Goa
Jaiselmer
Jalgaon
Jalna
Kandy ( Sri Lanka)
Kathmandu (Nepal)
Latur
Nagpur
Rahta
Ralegan Siddhi
Roha
Sangola
Shirur
Sirsa
Solapur
Ranchi